If you want your company's sales process to run as efficiently as possible, one of the most crucial keys to success is getting your marketing funnel – the process of converting a potential customer into a paying customer – right.
There is a lot of debate surrounding the marketing funnel — from who owns it, be it marketing or sales, to whether or not it's still relevant to today's consumer buying process. The answer is that the marketing funnel is exactly how you will develop any and all paid campaigns and organic traffic strategies. In fact, 87% of shoppers now begin their search on digital channels. Having the right content in the right funnel is key to gaining their attention.
What is the marketing funnel?
The idea is that, like a funnel, marketers start with a broad audience to capture as many potential leads as possible, and then slowly nurture these prospective customers through the purchasing decision. Then finally, the funnel narrows down these candidates in each stage of the funnel until they ideally follow through with a purchase.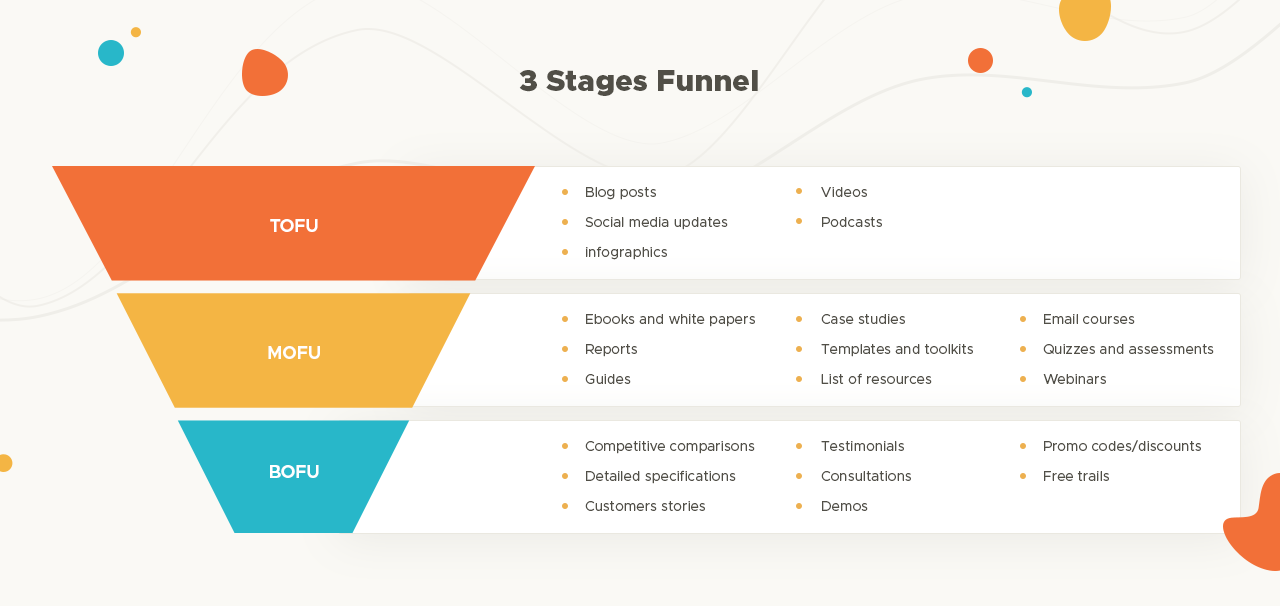 This graphic from Single Grain is an excellent representation of how a prospective customer is led down the funnel of different types of content being nurtured every step of the way until a sale is secured.
Where should you start?
Your business is going to interact with users at each and every stage of the funnel. As these leads continue to interact, you need relevant content at each level to persuade them to take that next step.
Top of the funnel should include content that will be relevant to a larger audience to make sure you are casting a wide enough net. This will allow your business to attract as many potential leads as possible.
Content to include in this phase would be: blog posts, social media updates, videos, infographics, and podcasts.
Middle of funnel content
Once you've attracted potential customers to your brand, you need to keep them engaged. Now is the time to keep in touch and follow up on the relationship.
Here are a few types of contents that will help keep your users engaged in order to build trust in your brand:
Ebooks and whitepapers
Reports
Case studies
Webinars
Quizzes and assessments
Email courses
You are missing out on a ton of potential in this section of the funnel if you don't foster the relationships with these warm leads.
Bottom of funnel content
You're so close to converting these customers! This is the funnel where you get people to really commit to your brand and make some sales. In this stage, trust is the key to success. So in this level you want to include as much personal testimony of anyone who has interacted with your brand that can provide some positive insight. Some examples of this type of content would be:
Testimonials
Demos
Customer stories
Promotions and discounts
Competitive comparisons
Contact Onimod Global
Onimod Global releases the latest digital marketing news and essential marketing tips every Tuesday and Thursday! To catch up on the top digital marketing news and trends, click here. To find out more about who we are and what we do, click here.
https://www.onimodglobal.com/wp-content/uploads/2020/08/AdobeStock_250515477-scaled.jpeg
1582
2560
Brittni Wright
https://onimodglobal.com/wp-content/uploads/2018/03/best-digital-marketing-agency.png
Brittni Wright
2020-08-18 20:26:37
2020-08-18 20:33:45
The Right Content For Each Marketing Funnel Stage