Google Now Shares What Factors Impact Specific Rankings
Google now shows why it ranked a specific search result. The new 'About This Result' feature shows searchers information about some of these most important factors used by Google Search to connect results to their queries.
Google Search will show the terms in your query that matched the results. Apart from that, it will also show if links from other websites also influenced the ranking. It will also list search tips to help you refine your query and find better search results.
When you visit an "About This Result panel" (the three dots next to most results) you'll get even more information about the search results. Google is now telling searchers what information impacted their results for a specific query. It also provides tips on how to get more out of Google Search.
Why is Google Sharing this Information?
According to the Search Engine's blog post:
'When you search for information on Google, you're probably accustomed to seeing a lot of relevant results in a fraction of a second. But maybe you've found yourself wondering how Google connected those results to the words you typed, especially if you didn't get exactly what you were expecting to find.
Now, there's a quick and easy way to see useful context about how Google returned results for your query, and to find helpful tips to get more out of Google Search. Starting last week, when you visit an About This Result panel — the three dots next to most results — you'll get even more information about your results to help you make sense of the information and figure out which result will be most useful.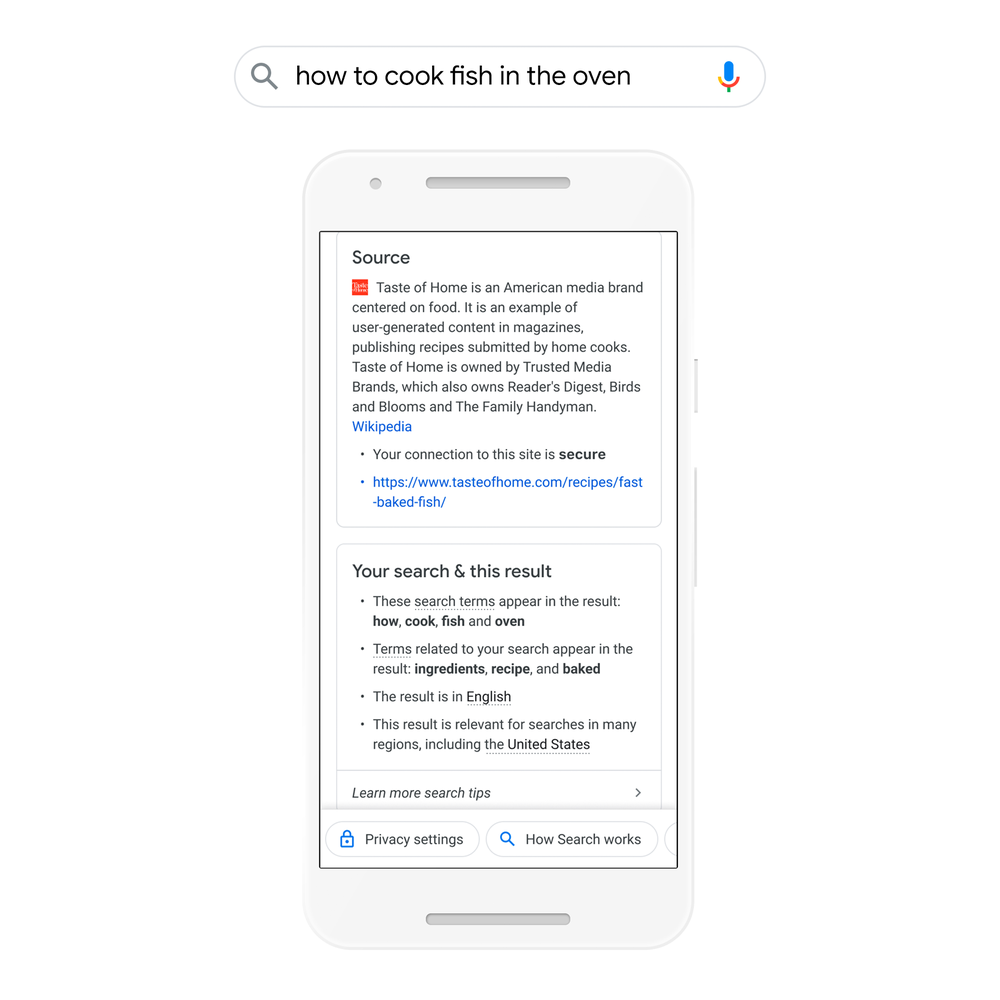 Relevant, useful results
With the vast amount of information available on the web, it would be nearly impossible to find what you need without some help sorting through it. Google's Search systems are designed to do just that: sort through hundreds of billions of webpages to find the most relevant and reliable results, and present them in a helpful way.
The way Google determines what is relevant and reliable information for a given query is based on a lot of different factors. While it can seem complex, some of these fundamental concepts are actually quite simple, and can be useful for people to understand when they start searching.
The About This Result feature will show searchers information about some of these most important factors used by Google Search to connect results to their queries. Because just as these factors help Google decide if a result may be relevant, they may also help people decide what result is useful for them.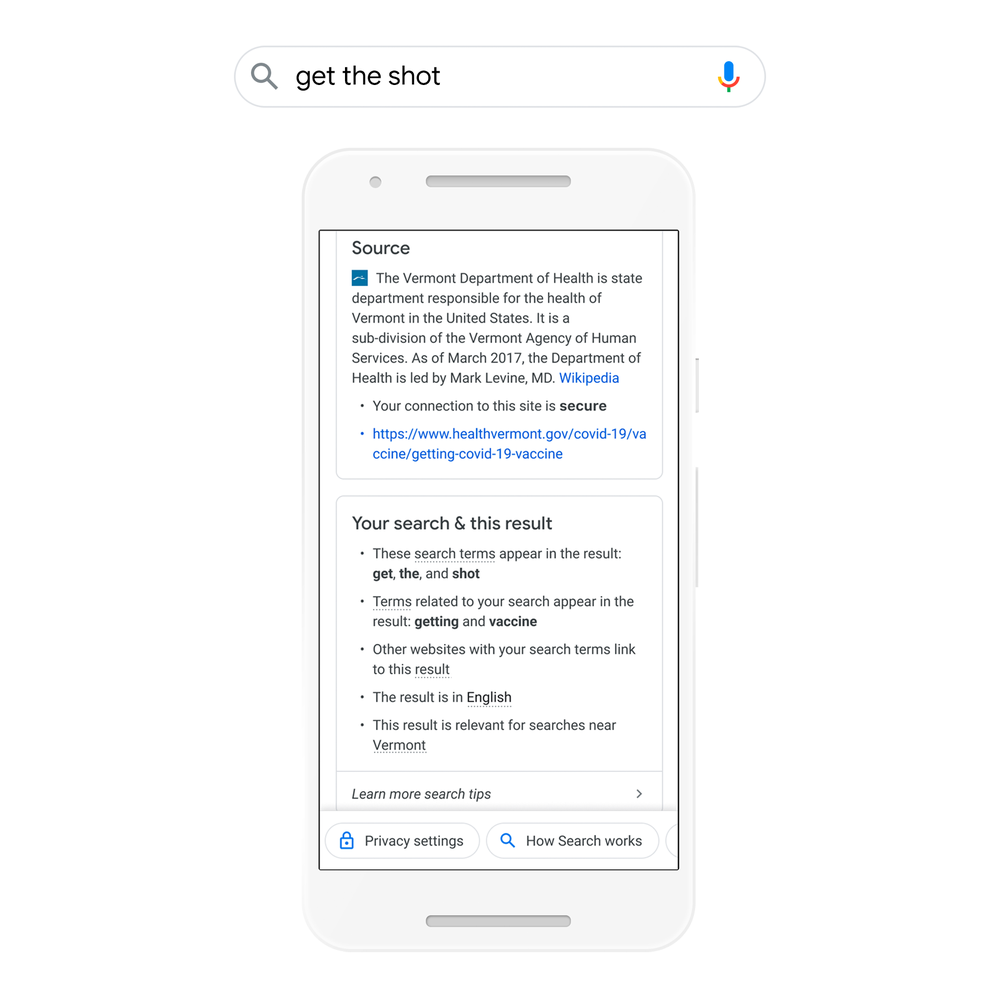 Here are some of the factors that you'll see:
Matching keywords: A simple, but important, factor Google uses to determine if information is relevant is when a webpage contains the same keywords as your search.
Related terms: Google also looks for terms that our systems determined are related to the words in your query. If you search "how to cook fish in the oven," we'll also look for pages that have related terms like "bake" and "recipe."
Looking at links: When other pages link to a page using similar words as your query, that page might be relevant to your search. It can also be a helpful indicator of whether online content creators tend to regard the page as useful for that topic.
Local relevance: Our systems also look at factors like the language you're using to search as well as your country and location, to deliver content relevant for your area. For example, if you search "what day is trash pickup?," it's helpful to get results that are applicable to your city or state.'
Relevant Images: Images that are relevant to the search query can also impact that search result. They're looking at image alt texts. They're looking at probably files and titles. But also using artificial intelligence to understand what that image truly is.
Why this Matters to SEO
For marketers and SEOs, this panel offers an interesting look into how Google determines relevance on a per-result basis.
Prior to today's update, About This Result only displayed information about the content source and whether the website's connection was secure. Now it contains a wealth of data about relevance signals.
This expansion is now live for 10% of eligible users and will gradually roll out to 100%. The expanded panels are available in English in the U.S. to start, with plans for a wider rollout in the coming months.
Dominate organic search and map results with Onimod Global
Organic Search Engine Optimization or SEO, is absolutely vital to achieve long term search engine visibility for your website. With the continued expansion of new internet and search engine users worldwide, the space that these search results occupy will only grow more valuable; literally exponentially.
Our core attribute. Years of experience in SEO are the pillar of our strategies. Onimod Global develops organic search engine optimization campaigns that deliver increases in organic traffic through an increase in natural rankings on major search engines like Google, Bing and Yahoo.
We invite you to start a conversation to learn why our cross-channel digital marketing expertise and unique consultative approach make Onimod Global a one-of-a-kind agency. Start here today. 
https://www.onimodglobal.com/wp-content/uploads/2021/08/Untitled-design-2021-08-20T142713.605.png
1260
2240
Andrew Jackson
https://onimodglobal.com/wp-content/uploads/2018/03/best-digital-marketing-agency.png
Andrew Jackson
2021-08-23 18:13:28
2021-08-23 18:13:28
Google Now Shares What Factors Impact Specific Rankings